Previous issue | Next issue | Archive
---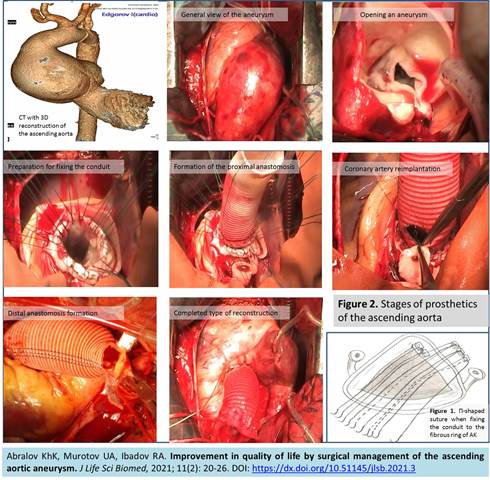 Research Paper
Improvement in quality of life by surgical management of the ascending aortic aneurysm.

Abralov KhK, Murotov UA, Ibadov RA.

J. Life Sci. Biomed., 11(2): 20-26, 2020; pii:S225199392100003-11
DOI: https://dx.doi.org/10.51145/jlsb.2021.3

Abstract
Aim. The article presents an analysis of the surgical treatment results in 98 patients with ascending aorta aneurysm (AAA), divided into two groups depending on the method of prosthetics. Methods. The main group included 71 patients who underwent surgery according to the modified Bentall-De Bono procedure and the comparison group consisted of 27 patients who underwent surgery according to the standard method. Results. Results of studies have shown that the proposed option for fixing the conduit made it possible to level the need for additional reinforcing sutures on the anastomosis line (from 48.1% with the classical Bentall-De Bono technique; P<0.001), while the quality of the tightness of the anastomosis zone provided a decrease in the risk of postoperative bleeding with 33.3% to 4.2% (P<0.001). In both groups, after surgery, there was an equal tendency to improve echocardiographic parameters. Conclusion. In general, a comparative analysis of immediate results showed a decrease in the overall incidence of postoperative complications when using the proposed variant of conduit fixation from 37.0% to 9.9% (P=0.002), which made it possible to reduce the overall mortality rate from 22.2% to 5.6% (P=0.016).

Keywords: Congenital heart diseases, Ascending aortic aneurysm, Surgical treatment, Quality of life

[Full text-PDF (in press version)] [HTML] [ePub] [XML] [Export citation to RIS & EndNote] [How to Cite] [Semantic Scholar]
---
Previous issue | Next issue | Archive

This work is licensed under a Creative Commons Attribution-NonCommercial 4.0 International License.