Previous issue | Next issue | Archive
Volume 10 (6); November 25, 2020

---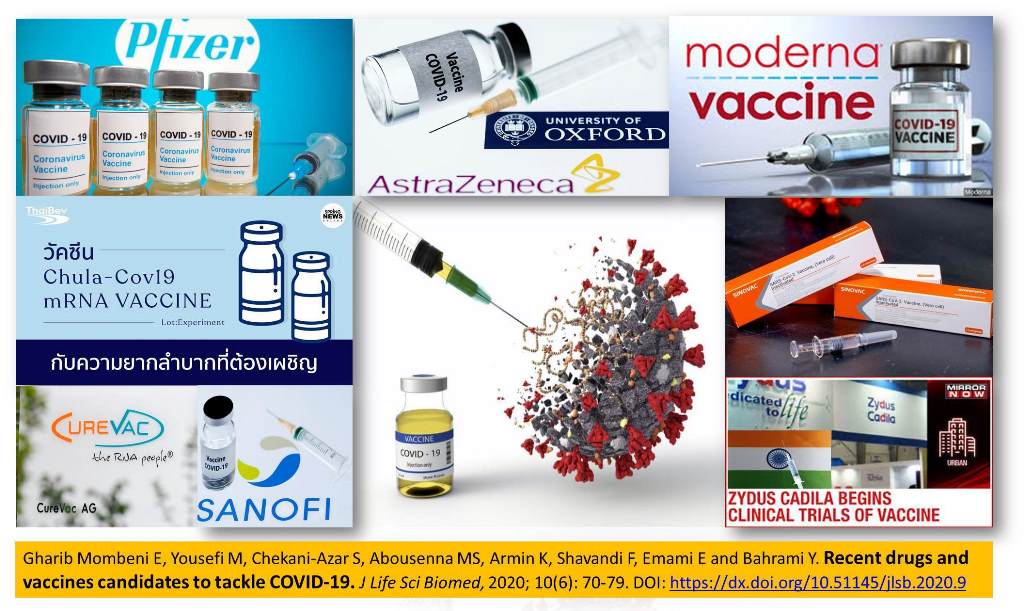 ReviewCOVID-19
Recent drugs and vaccines candidates to tackle COVID-19.

Gharib Mombeni E, Yousefi M, Chekani-Azar S, Abousenna MS, Armin K, Shavandi F, Emami E and Bahrami Y.

J. Life Sci. Biomed., 10(6): 70-79, 2020; pii:S225199392000009-10
DOI: https://dx.doi.org/10.51145/jlsb.2020.9

Abstract
Introduction. The global devastating pandemic coronavirus disease 2019 (COVID-19) is a worldwide multisystemic infection caused by the novel severe acute respiratory syndrome coronavirus 2 (SARS-CoV-2), which has emerged as a menace to the global public health and countries economy. There is a crucial necessity for the suggestion of effective drugs to eliminate the virus outbreak. Several candidate drugs with existing emerging evidence try to offer a pharmacological strategy that may inhibit infection in COVID-19 patients. By, October 2020, scientists have nominated some reliable and safe types of coronavirus vaccines like Pfizer, Moderna, AstraZeneca, CureVac, CoronaVac, etc. that are effective and showed 95% to 90% protection, respectively. Aim. This review highlights important clinical and in vitro studies, uses of potent antiviral drugs and most recent vaccines against COVID-19 disease.

Keywords: Actemra, Antiviral medicines, ARCoV, AstraZeneca, ChulaCov19, CoronaVac, COVID-19, CureVac, CytoSorb, Ivermectin, Moderna, Oleandrin, Pfizer, Remdesivir, Ritonavir, Vaccines.

---
Previous issue | Next issue | Archive

This work is licensed under a Creative Commons Attribution-NonCommercial 4.0 International License.