Previous issue | Next issue | Archive
Volume 10 (1); January 25, 2020

[Booklet]

---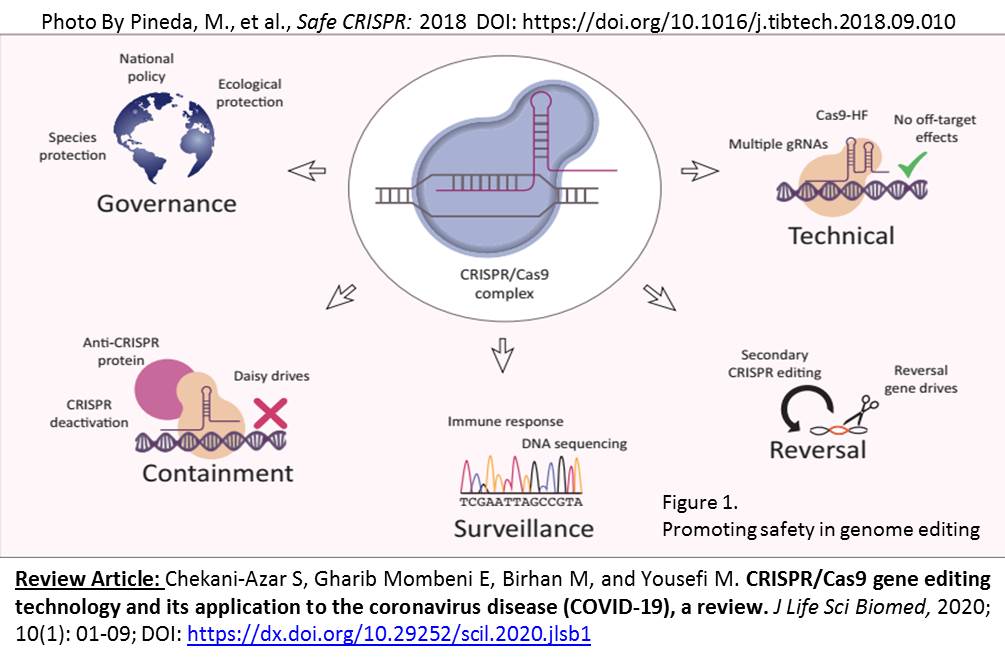 Review COVID-19
CRISPR/Cas9 gene editing technology and its application to the coronavirus disease (COVID-19), a review
Chekani-Azar S, Gharib Mombeni E, Birhan M, and Yousefi M.

J. Life Sci. Biomed., 10(1): 01-09, 2020; pii:S225199392000001-10
DOI: https://dx.doi.org/10.29252/scil.2020.jlsb1
Abstract
Introduction. Clustered-Regularly Interspaced Short Palindromic Repeats (CRISPR), and CRISPR associated (Cas) protein (CRISPR/Cas) structures were first identified in E. coli in 1987 and guard prokaryotic cells from any invading pathogens, harmful events and plasmids by recognizing and cutting foreign nucleic acid sequences that contain short palindromic repeats spacer sequences. Several genome editing approaches have been developed based on these mechanisms; the most recent is known as CRISPR/Cas. Before the CRISPR technique was revealed in 2012, editing the genomes of plants and animals took many years and cost hundreds of thousands of dollars. Thus, CRISPR/Cas has attracted significant interest in the scientific community, especially for disease diagnosis and treatment, as it is quicker, less expensive and more precise than other genome editing approaches. The evidence from gene mutations in specific patients generated using CRISPR/Cas can assist in the prediction of the optimal treatment schedule for individual patients and for innovation purposes in other researches like replication in cell culture of coronaviruses like severe acute respiratory syndrome coronavirus-2 (SARS-CoV2 or COVID-19). However, in numerous situations, the effects of the furthermost significant driver mutations are not yet understood and interpretation of the optimal treatment is impossible. CRISPR/Cas classifications feature highly sensitive and selective tools for the detection of various target genes. When we see the next steps of genomic research, it is obvious that genome-wide association studies are relatively new way to identify the genes involved in human disease. Furthermore, CRISPR/Cas provides a tool to manipulate non-coding regions and will thus accelerate examination of these poorly characterized regions of the genome and play a vital role in the progress of whole genome libraries. Aim. We aimed to review the history of CRISPR/Cas, the mechanisms of CRISPR techniques, its current status as a tool for studying both natural mutations and genomic manipulations, and explore how CRISPR/Cas may improve the treatment of diseases.

Keywords: CRISPR/Cas9, DNA-targeting, Palindromic, Plasmids, Genome sequencing, SARS-CoV2, COVID-19
[Full text-PDF] [HTML] [ePub] [XML] [PubMed-XML] [Export to BibTeX, RIS & EndNote] [How to Cite] [Google Scholar] [Dimensions ID]
---