Previous issue | Next issue | Archive
---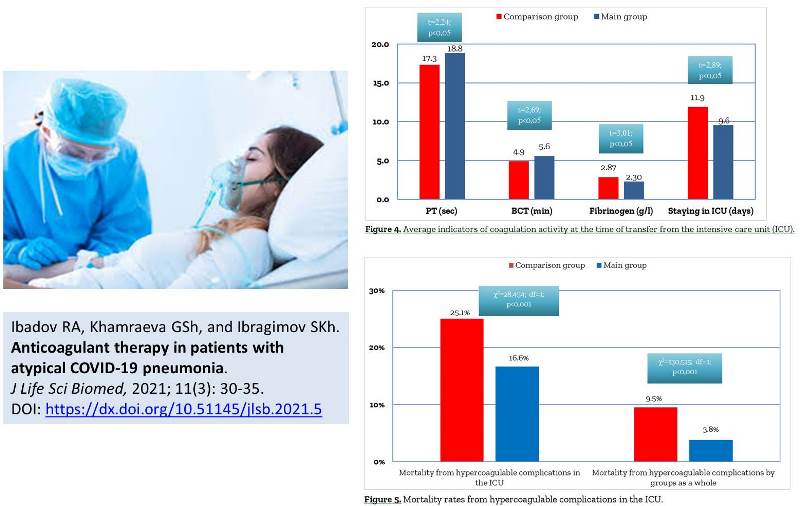 Research Paper
Anticoagulant therapy in patients with atypical COVID-19 pneumonia.

Ibadov RA, Khamraeva GSh, and Ibragimov SKh.

J. Life Sci. Biomed., 11(3): 30-35, 2021; pii:S225199392100005-11
DOI: https://dx.doi.org/10.51145/jlsb.2021.5

Abstract
Aim. In a comparative aspect, this article aimed to evaluate the effectiveness of optimized intensive care protocols for severe and extremely severe COVID-19. Methods. During the study period, 4922 patients were treated in the intensive care units of the Republican Specialized Multidisciplinary Infectious Diseases Hospital (678 in the comparison group and 4244 in the main group). The developed protocol of anticoagulant therapy was applied to all patients in the main group. Results. There was an improvement in prothrombin time (PT) from 12.0±0.4 to 13.6±0.3 sec (P < 0.05) on day 3, from 14.7±0.4 to 16.2±0.3 sec (P < 0.05) on day 10, clotting time from 3.1±0.1 to 3.3±0.1 min (P < 0.05) and from 3.7±0.1 to 4.5±0.1 min, respectively, and fibrinogen from 4.6±0.2 to 4.2±0.1 g/l (P < 0.05) and from 4.0±0.1 to 3.4±0.1 g/l (P < 0.05), a decrease in the frequency of fatal thromboembolic complications from 25.1% to 16.6% (P < 0.001). Conclusion. The introduction of optimized tactics for anticoagulant therapy in patients with severe and extremely severe COVID-19 course made it possible to accelerate the dynamics of prothrombin time, fibrinogen, and blood clotting time (BCT), which ensured a decrease in the likelihood of developing fatal thromboembolic complications in the intensive care unit.

Keywords: COVID-19, Anticoagulant therapy, Respiratory therapy, Patients

[Full text-PDF] [HTML] [ePub] [XML] [Export citation to RIS & EndNote] [How to Cite] [Semantic Scholar]
---
Research Paper
Ethnomedicinal knowledge of plants used as mono, di and polyherbal formulation for the treatment of common ailments and COVID-19 in the villages of Hamedan, Iran.

Yousefi Z, Kaya Y, Akrami M. and Yousefi M.

J. Life Sci. Biomed., 11(3): 36-52, 2021; pii:S225199392100006-11
DOI: https://dx.doi.org/10.51145/jlsb.2021.6

Abstract
Introduction. To identify medicinal usage of the herbs individually or in polyherbal combination used by people to cure various ailments, Qorveh-e Darjazin district of Hamedan province of Iran was ethno-botanically surveyed. Data were collected through both individual interviews and focus group discussions (FGDs) using interviewing 87 people in 28 villages. Plants voucher samples were also collected and classified with their families, botanical terms, local names, usages and miscellaneous matters via international and standard questionnaires.  A total of 45 plant species belonging to 27 families are reported to be used for the treatment of a wide range of complaints, such as cardiovascular diseases, ulcers, diarrhea, catarrh, constipation disposal, high blood pressure lowering, kidney stone etc. under monoherbal (45), diherbal (17) and polyherbal (8) formulations. Data were compared with those formerly gathered. The authors found evidence that polyherbal known as Ayurvedic medicine is a preferred folk medicinal system of this area to prevent unwanted suffering of intense and prevalent ailments with the mixed formulation for natural elements in a particular ratio. They believed that polyherbalism have better therapeutic effect with lower toxicity and it can easily help patients to restore their balance and living a long healthy life. Polyherbal combination type of plants used by people of this area can be considered as an applicable strategy in control measures against diseases and achieve greater therapeutic efficacy.
Keywords: Polyherbalism, Semi-structured and structured questionnaires, Ailment, Traditional medicine, Hamedan

[Full text-PDF-in press] [HTML] [ePub] [XML] [Export citation to RIS & EndNote] [How to Cite] [Semantic Scholar]
---
Previous issue | Next issue | Archive

This work is licensed under a Creative Commons Attribution-NonCommercial 4.0 International License.