Previous issue | Next issue | Archive
---
Research Paper
Factors associated with the low birth weight of children under five years in North Center of Burkina Faso

Bougma S, Garanet F, Hama-Ba F, Cisse H, Tarnagda B, Zio S, Traore Y and Savadogo A.

J. Life Sci. Biomed., 12(3): 48-55, 2022; pii:S225199392200006-12

DOI: https://dx.doi.org/10.51145/jlsb.2022.6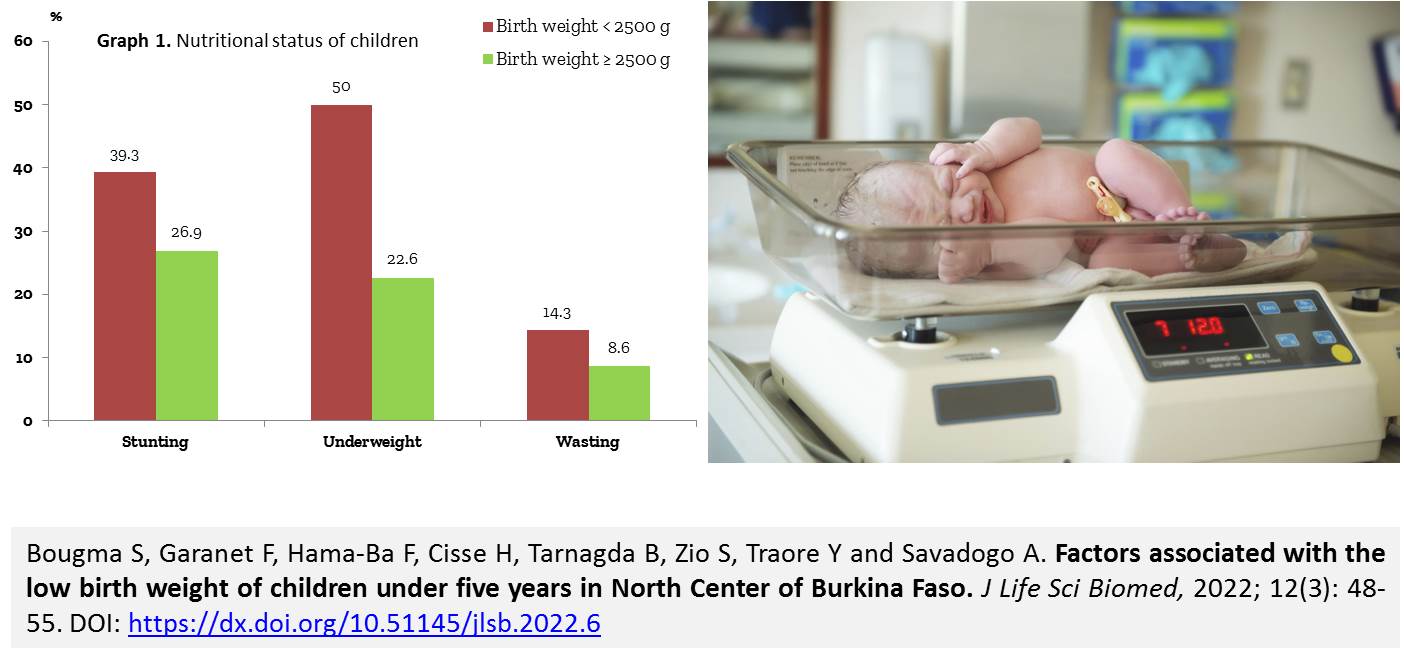 Abstract

Introduction. Low birth weight (LBW) is a major public health problem, in both developed and developing countries, due to its magnitude and strong association with infant morbidity and mortality. Aim. To estimate the prevalence of low birth weight and identify associated factors in children under five years old. Methods. This is a cross-sectional study carried out in 8 villages in the commune of Pissila in north-central Burkina Faso, involving 262 mother-child pairs. The factors associated with low birth weight were identified according to the odds ratio (OR) raw and the 95% confidence interval (95% CI) in the bivariate analysis and according to the adjusted OR in the multivariate analysis. Sociodemographic characteristics, reproductive history, previous morbidity and factors related to prenatal care were studied. Results. A total of 262 children with birth weights based on official documents were involved in this study. The proportion of low birth weight children was estimated at 10.7%. For maternal factors, we observed that the low level of education (adjusted OR=2.6), the fact of carrying out an itinerant activity (adjusted OR=3.4) and rural socialization (adjusted OR=0.3) were significantly associated with low birth weight. Additionally, maternal parity (adjusted OR=5.5) and large household size (adjusted OR=15.0) were also associated with low birth weight. Conclusion. These results confirm the conclusions of previous studies. Family planning, pre-conception intervention, financial empowerment of women and maternal education should be strengthened to reduce the incidence of low birth weight.

Keywords: Associated factors, Burkina Faso, Children, Latrine, Low birth weight,

[Full text-PDF] [ePub] [Export citation from ePrint] [Mendeley] [How to Cite]
---
Research Paper
Features of arthroscopic-assisted reduction of tibial plateau fractures

Irismetov ME, Shamshimetov DF, Tajinazarov MB, Kholikov AM, Usmonov FM, Rajabov KN, Rustamov FR.

J. Life Sci. Biomed., 12(3): 56-63, 2022; pii:S225199392200007-12
DOI: https://dx.doi.org/10.51145/jlsb.2022.7

Abstract
Introduction. Surgical treatment of tibial condyle fractures have been little studied and it represents difficulties up to now. Aim. The aim of the present work was improvement of results of surgical treatment of tibial condyle fractures. Methods. Surgical treatment of tibial condyle fractures is done on total of 65 patients in the department of Sport trauma of Centre of traumatology and Orthopaedics arthroscopy. Results. Good and satisfactory outcomes were achieved in all the patients received arthroscopy treatment. The use of magnetic resonance imaging (MRI) and multislice computed tomography (MSCT) in the diagnosis of intra-articular fractures of the knee joint, and the analysis of their results contribute to the choice of the optimal surgical treatment. Arthroscopy of intra-articular fractures of the tibial condyles allows for an accurate diagnosis, visual control of the reduction, that is characterized by minimal surgical traumatism, minimal risk of infectious complications, leaves a minimal cosmetic defect, and helps to shorten the length of hospital stay and early rehabilitation of patients. Recommendation. Suggested methods are high effective and can be recommended in practical medicine. 

Keywords: Tibia, Plateau, Fracture, Arthroscopy, Knee joint

[Full text-PDF] [ePub] [Export citation from ePrint] [How to Cite]

---
Previous issue | Next issue | Archive

This work is licensed under a Creative Commons Attribution 4.0 International License (CC BY 4.0)