Previous issue | Next issue | Archive
---
Review  
An understanding of the latest pathophysiological mechanisms of pancreatic β-cells in type 2 diabetes

Aghayan SK, Nokhostin S, Vahdatpour T.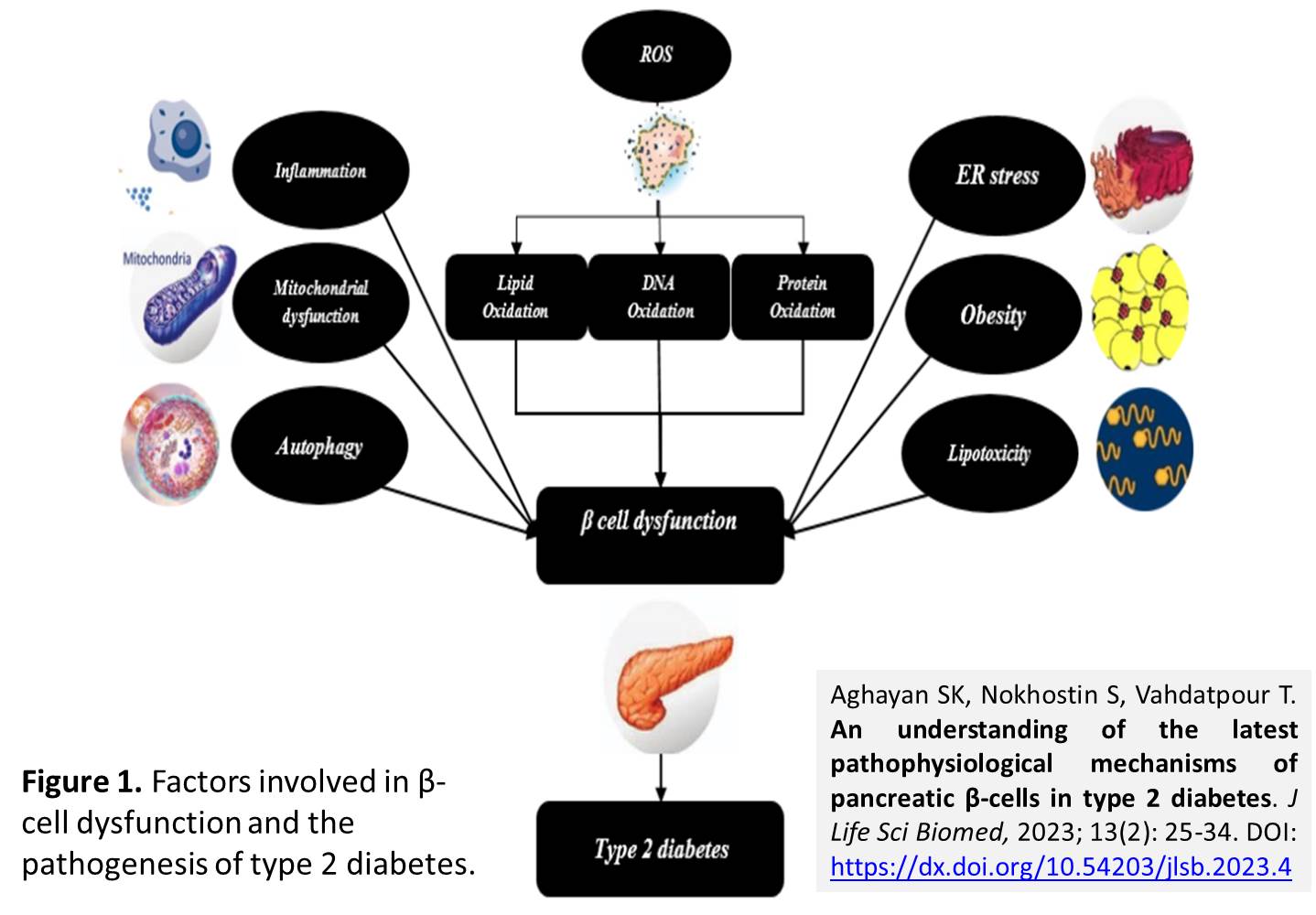 J. Life Sci. Biomed., 13(2): 25-34, 2023; pii:S225199392300004-13
DOI: https://dx.doi.org/10.54203/jlsb.2023.4

Abstract
Oxidative stress is one of the most important causes of type 2 diabetes (T2D); it impairs the functioning of lipids, proteins, and DNA, and can disrupt insulin secretion. Endoplasmic reticulum stress is involved in β-cell dysfunction and a number of pathways, known as the unfolded protein response, are activated to reduce this stress and protect β-cells from death. Increased autophagy provides a preventative mechanism, protecting against oxidative stress in pancreatic β-cells. Mitochondrial adenosine triphosphate regulates insulin levels, and mitochondrial reactive oxygen species can disrupt insulin secretion. Inflammation is caused by cell damage and is specified by the invasion of immune cells and the local release of cytokines and chemokines. Tumor necrosis factor-α as a proinflammatory cytokine is produced by adipose tissue during islet inflammation in patients with obesity and insulin resistance. Therefore, inflammation also plays a role T2D.

Keywords: Stress, Diabetes, Dysfunction, Insulin, Inflammation

[Full text-PDF] [ePub] [Export citation from ePrint] [How to Cite]

---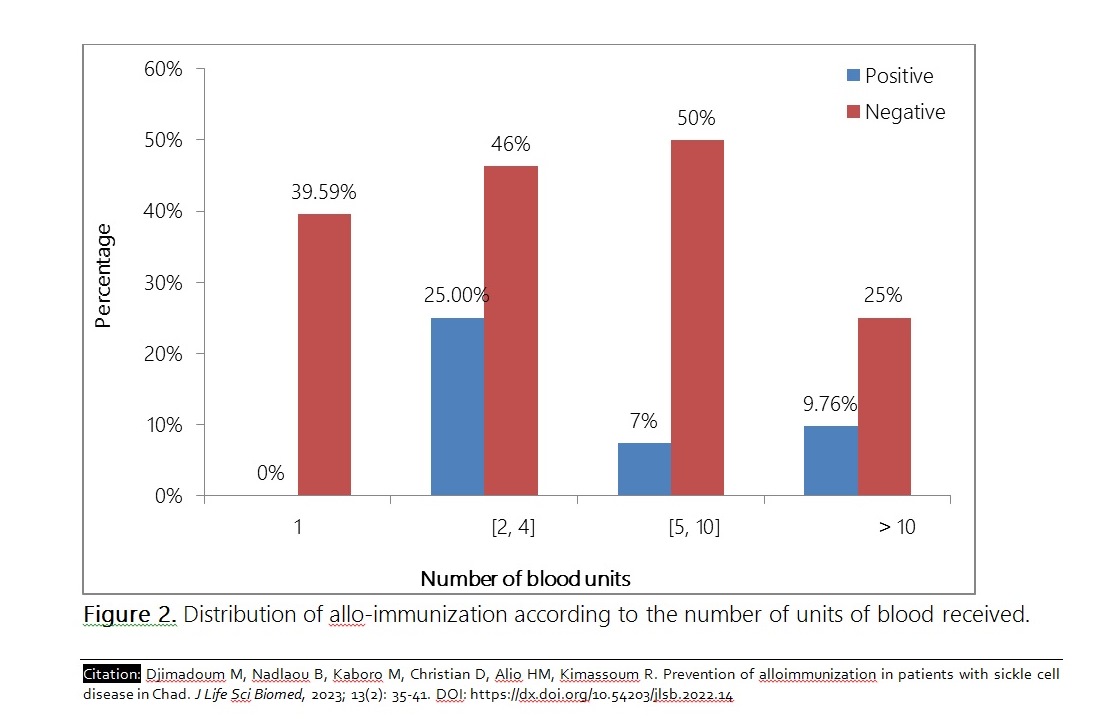 Research Paper
Prevention of alloimmunization in patients with sickle cell disease in Chad

Djimadoum M, Nadlaou B, Kaboro M, Christian D, Alio HM, Kimassoum R.

J. Life Sci. Biomed., 13(2): 35-41, 2023; pii:S225199392300005-13

DOI: https://dx.doi.org/10.54203/jlsb.2023.5 

Abstract
The objective of this study was to contribute to the prevention of anti-erythrocyte alloimmunization in patients with sickle cell disease (DS) in Chad. This was a descriptive and analytical cross-sectional study from December 2021 to June 2022 in sickle cell patients regularly followed in two University Hospital Centers (CHU) in N'Djamena. The search for irregular antibodies was carried out by a combination of three techniques: indirect anti-globulin test (Coombs), enzymatic test (Papain) and the test in a low ionic strength medium, in a partner laboratory of the National Blood Transfusion Center in France. The study included 57 sickle cell patients, 45 of whom (78.9%) were actually transfused. Sickle cell patients accounted for 84.2% of cases. The sex ratio Male/Female (M/F) was 1.03. The average age of the transfused was 9.3 ± 5.4 years. Four of the transfused patients (8.8%) had produced 7 antibodies including 85.7% anti-rhesus and 14.3% anti-Kell. Age, sex and number of blood units were associated with antibody production with probabilities of 0.046, 0.041 and 0.035, respectively. In view of the results obtained from this study, we recommend the application of the blood transfusion rules and procedures in force in Chad.

Keywords: Allo-immunization, sickle cell disease, prevention, Chad

[Full text-PDF] [ePub] [Export citation from ePrint] [How to Cite]

---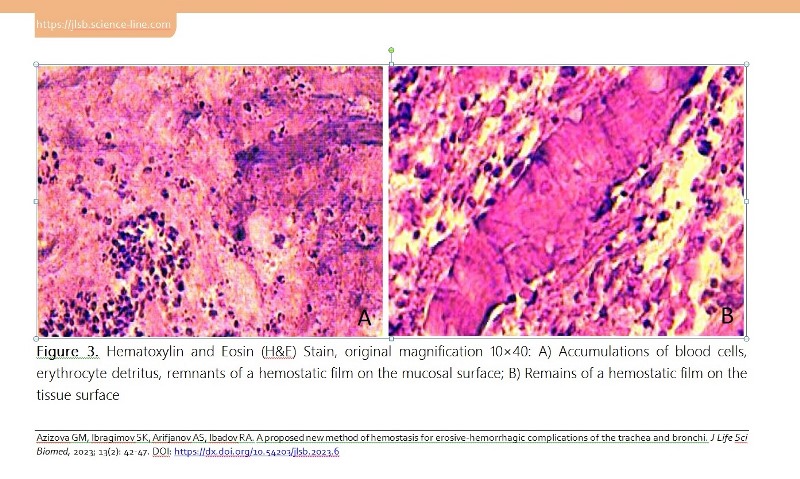 Case Report
A proposed new method of hemostasis for erosive-hemorrhagic complications of the trachea and bronchi

Azizova GM, Ibragimov SK, Arifjanov AS, Ibadov RA.

J. Life Sci. Biomed., 13(2): 42-47, 2023; pii:S225199392300006-13

DOI: https://dx.doi.org/10.54203/jlsb.2023.6  

Abstract
Ventilator-associated complications are the most frequent ones that prevent the recovery of intensive care patients. This study aimed to evaluate the effectiveness of the endoscopic treatment of acute hemorrhagic lesions of the tracheobronchial tree in patients with ventilator-associated tracheobronchitis. A total of 5 patients (22.4±3.3 mean age, 18 to 36 years) with prolonged mechanical ventilation (>48 hours) in the resuscitation and intensive care unit were monitored. The diagnosis of ventilator-associated tracheobronchitis was established on the basis of clinical signs, radiological and microbiological criteria. Fine-dispersed powder with hemostatic properties (HEMOBEN) was used as a hemostatic agent when applying the method. A morphometric study noted that ventilator-associated tracheobronchitis is accompanied by a pronounced lymphoid-neutrophilic infiltration of the tracheal and bronchial mucosa (signs of diffuse catarrhal inflammation of varying degrees and erosive deforming endobronchitis are verified), and in a complicated course with the presence of a purulent-inflammatory and erosive-hemorrhagic component with its vascularization and metaplastic changes and violations of the integrity of the epithelial lining also leads to a violation of the integrity of tissues due to destruction and necrosis. Hence, a method has been developed to stop bleeding in case of mucosal damage by local application of HEMOBEN, which allows us to quickly cover the bleeding surface with an adequate hemostatic effect.

Keywords: Ventilator-associated tracheobronchitis, prolonged mechanical ventilation, clinic, endoscopic treatment, pathomorphological changes
[Full text-PDF] [ePub] [Export citation from ePrint] [How to Cite]
---
Previous issue | Next issue | Archive

This work is licensed under a Creative Commons Attribution 4.0 International License (CC BY 4.0)